Animales de granja en Marcús Casa Rural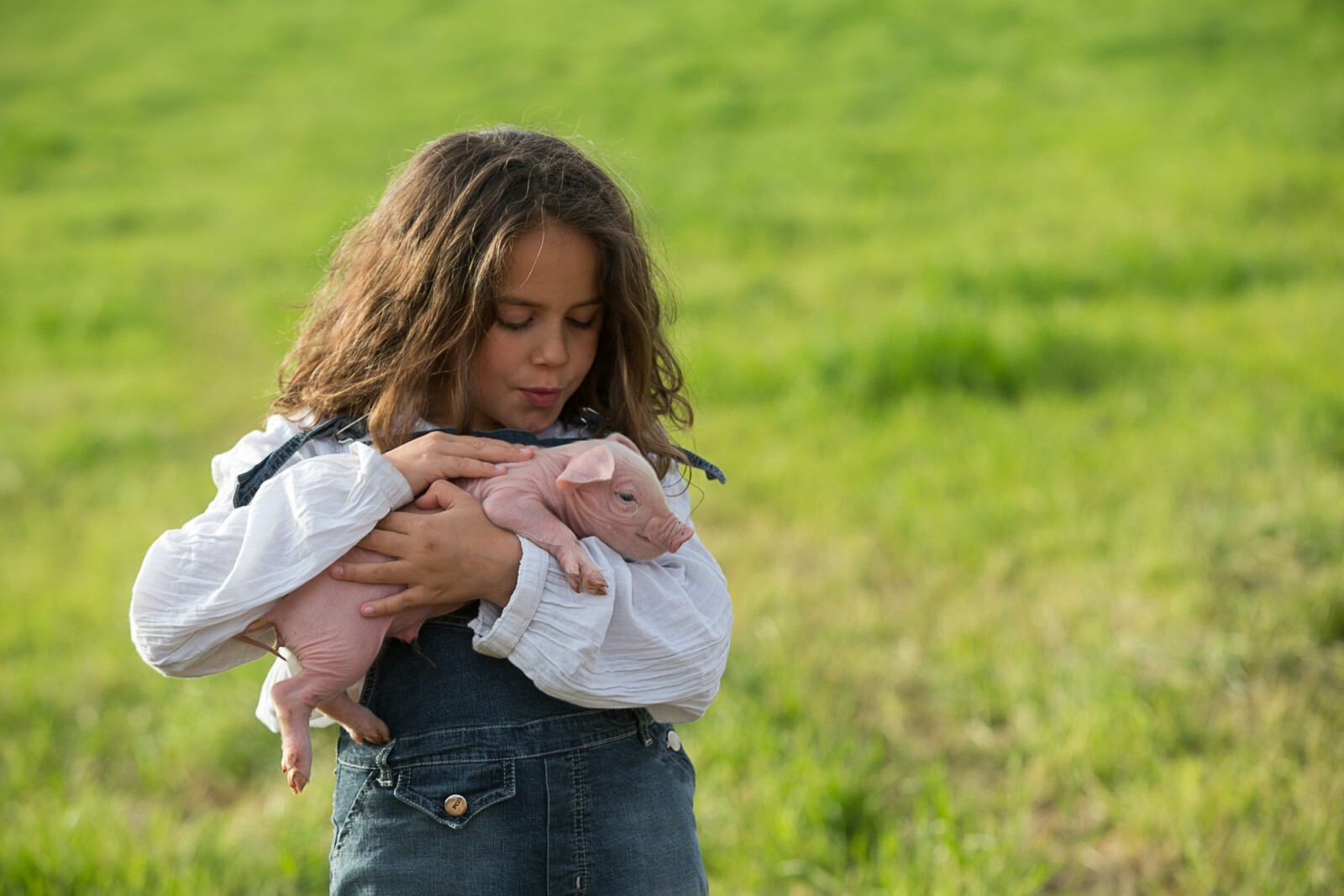 Big and small – everyone will enjoy our lovely farm animals at Marcús Casa Rural!
It's the first thing they do every morning.
And sometimes, no matter how much I insist they put some clothes on and comb their hair, all the little ones in our family want to do is say good morning to their favourite farm animals!
As you can imagine, that's exactly the last thing they do before going to bed – wishing them good night!
To be honest, I enjoy this little ritual as much as they do!
Seeing, petting, hearing and even talking with animals in our farmhouse, unites us and makes us feel very happy.
Both the young and the young at heart!
And we love to see the excitement in the faces of the children who visit our home in the country and have the opportunity to caress Pepa the piglet...
And Rabbit…the rabbit!
(Yep, didn't dig very deep to find their names!)
What a unique and wonderful experience that is for them!
Because most of the children who visit Marcús Casa Rural live in urban environments.
Normally, they don't have the opportunity to establish a direct contact with farm animals.
A lot of them live in small spaces where it's also quite difficult to keep domestic animals like dogs and cats.
And we love to see the reaction of our little guests to our lovely farm animals!
It is as if they discovered a whole new world!
That's why we often like to remind moms and dads how important it is to offer children the opportunity to interact with farm animals.
Because in addition to the emotional connection they learn to establish with the animals on our planet, and the empathy that helps develop in them, it also teaches them other very important values ??in this life:
1. It teaches them where their food comes from
Spending a few days in a rural house can be very educational for children living in urban settings.
Among other things, they can learn where their food comes from.
Children will be able to see the work and effort involved in planning, cultivating and harvesting crops, as well as raising and caring for livestock.
Understanding the agricultural and livestock processes will make them feel a lot more grateful for the food they have on the table every day.
2. It tells them about the life cycle
Something which is often difficult to teach and accept: the cycle of life.
When visiting a farm, children encounter a natural world, where there is drought, floods, fires...
The grass grows and it gets cut...
Insects pollinate wildflowers...
Farm animals are born, grow, are part of the family, and then one day their end comes...
On a farm, children can see how the cycle that they learn in school takes place in real life – and this is essential in their lives.
3. It teaches them responsibility
Feeding the animals...
Watering the fields...
Cleaning the stables...
And many other daily tasks that children will observe in Marcús Casa Rural and will teach them the responsibility required to care for other living things and to produce food.
4. Develop appreciation for our planet
You should see how many questions the children of the families who visit us throw at us!
Those curious little minds are eager to know why things are the way they are.
They want to experience, touch, smell, feel everything that happens around them in the farm!
That experience will make them develop positive attitudes towards natural life, the climate and mother nature.
For all these reasons, and many more, we invite you and your family to Marcús Casa Rural.
We are only 3 km away from Solsona, from the Palús de Marcús.
At 619 meters altitude.
Surrounded by the wonderful rural landscape of the serrated small valleys of the Solsonès, near the Cardener River, where you'll be able to enjoy the great variety of flora and fauna that grows and lives on its banks.
Wish our farm animals a good morning and head on towards the imposing peaks of the Pyrenees, just 30 km away from our rural house.
And at the end of your day, it's time for a bit of peace and quiet surrounded by family, friends, and the lovely animals at our farm.
Don't you think it's a wonderful plan?
Book your holiday in our rural home today by following this link!
Can't wait to have you and your little ones with us!
3 de octubre de 2019